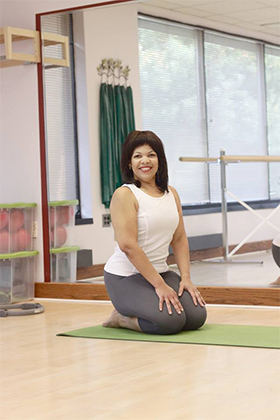 Epiphany Pilates was founded by Eurona Tilley, PMA®-CPT, to share her passion for Pilates with others. Simply put, Pilates transformed Eurona's life and she believes it can transform yours too.
Eurona was introduced to Pilates in December 2005 at the Tamara Di Tella Pilates studio in Asuncion, Paraguay. Although she was overweight at the time, Eurona quickly realized that Pilates was the total body conditioning program that she had been searching for in a quest to lose weight. Not only did Pilates help her regain strength and flexibility, it enabled Eurona to make the connection between her mind, body and spirit. This epiphany allowed her to adopt a whole body approach to health and wellness, and ultimately lose weight.
Today, Eurona's goal is to help others achieve their fitness and rehabilitation goals through Pilates. She firmly believes that Pilates is for everyone; and, she strives to make her classes comfortable and inviting for a range of fitness levels while introducing progressively challenging and engaging exercises.
Eurona received her Pilates training through BASI Pilates®, a leading Pilates education academy, with a reputation for innovation, dedication and academic excellence. She is a certified Prenatal & Postnatal Pilates Specialist with The Center for Women's Fitness and she received her barre certification through Booty Barre®. In addition, Eurona is a Certified Pilates Teacher (CPT) by the Pilates Method Alliance (PMA), the international, professional association for the Pilates community.
Epiphany Pilates is thrilled to have a team of wonderful instructors who embody the spirit and essence of what our studio is all about.
With so many wonderful and inspiring clients walking through our door each day, Epiphany Pilates loves shining the spotlight on them.
Epiphany Pilates is also pleased to offer a range of wellness services through our team of independent providers.
 
Our Location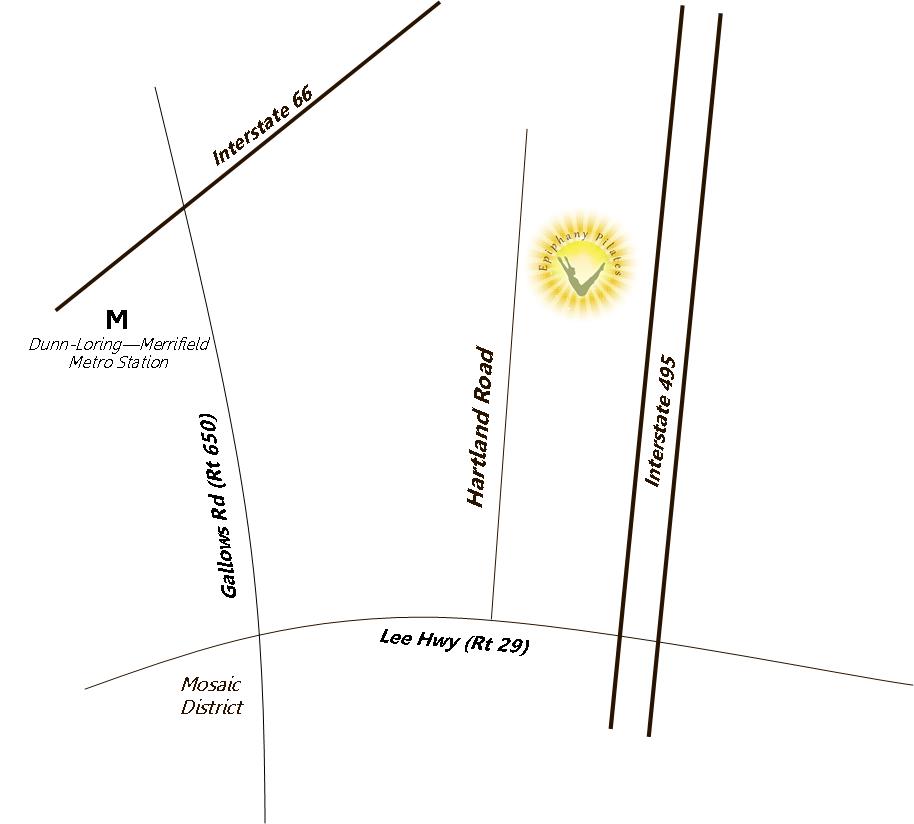 Epiphany Pilates is located in Falls Church, Virginia - steps away from the Dunn Loring-Merrifield Metro station and nestled in the heart of a vibrant community filled with shops, restaurants, and entertainment venues.
Epiphany Pilates is a BASI Pilates® Affiliate studio and features:
- A serene and comfortable environment to escape from the hustle and bustle of life
- A large group classroom with specialized flooring for both barre and Pilates classes
- 72" mirrors to provide a full view during mat work
- Separate Pilates equipment rooms containing two Pilates Reformers, a Pilates Cadillac, and three Pilates Wunda Chairs for private and semi-private training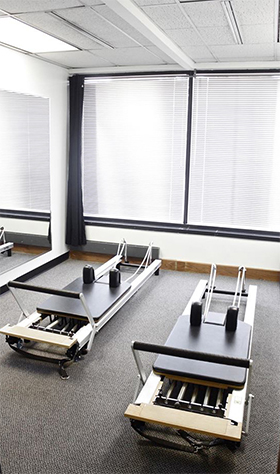 Visit us today!
2735 Hartland Rd.
Suite 100
Falls Church, VA 22043
703-204-2200